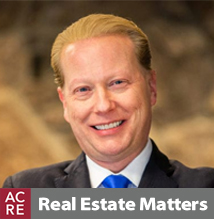 ACRE Data Analytics Coordinator Stuart Norton interviews Lument Senior Managing Director & Southeast Regional Director, Originations Chad Hagwood about how he became interested in commercial real estate, his viewpoint on how coronavirus is affecting commercial real estate finance, and about Hunt Real Estate Capital's transition to Lument. Lument is a member of ACRE's Alabama Cabinet.
--
CHAD'S MANTRA – "Go above and beyond every day!"
CHAD'S MISSION – It's my mission to deliver outstanding value and exceptional service and results to my customers! I use my years of experience, knowledge, and deep relationships with the commercial real estate capital markets to ensure that my customers receive the best possible deal terms and that their transactions are closed with efficiency, certainty, and integrity and continue to serve their needs after the close.
RESULTS MATTER - "Customers pay for results, period. Results come from passion, expertise, and closing a lot of deals over many years and cycles in this business. CONSISTENT RESULTS alone are the ultimate standard that cut through the noise and separate those that can do from those that cannot." Chad Thomas Hagwood
WHAT CHAD DOES – I am a direct lender and an expert in financing multifamily properties and manufactured housing communities (MHCs) across the nation. I am an advocate for my great customers and carefully guide them through the nuances and pitfalls of commercial real estate finance while providing them with the white-glove service they expect and deserve. I am a leading specialist in Fannie Mae, Freddie Mac, FHA and CMBS loans. My team and I pride ourselves on delivering what others cannot, and by doing what we say we will do, when we say we will do it. Most importantly, I love what I do!
WHAT LUMENT DOES - LUMENT is a leading nationwide direct lender in multifamily, manufactured housing and commercial real estate finance. We are an entrepreneurial and customer-focused lender. WE ARE DEAL MAKERS - NOT BANK BUREAUCRATS. We are one of a small number of lenders to offer Fannie Mae, Freddie Mac, and FHA loans along with (real) bridge programs. Our proprietary loan options include our fixed-rate loans, bridge loans for acquisitions and rehabs, and mezzanine loans. LUMENT is also a leader in SBL, affordable housing, seniors housing, and healthcare loans.