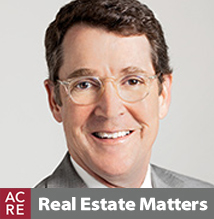 2021 CCIM Global President Tim Blair joins ACRE Data Analytics Coordinator Stuart Norton to discuss CCIM's plans for 2021, his outlook for 2021, and the pandemic's impact to CRE development and brokerage activity.
Tim Blair is a partner at Shannon Waltchack in Birmingham, Alabama. Shannon Waltchack is a full-service real estate firm that manages, brokers, develops, and acquires property across the southeast. Blair leads the firm's commercial real estate capital preservation fund which is focused on purchasing neighborhood centers in affluent communities with necessity-based service tenants. A veteran real estate professional, he has been in the real estate industry for more than 25 years and a principal at Shannon Waltchack since 2010.
In addition currently serving as CCIM Institute's Global President in 2021, Blair was the 2017 National Association of Realtors Commercial Advocate of the Year and is also a Life Member of the Birmingham Association of Realtors' Commercial Million Dollar Sales Club. Blair received his bachelor's degree from Colorado College and his MBA from the University of Virginia's Darden School of Business.
Blair is actively involved in multiple local non-profits including Mainstreet Alabama and the YMCA. After being Board Chair for several area branch YMCA's, he currently serves as Chairman of the Board for the Birmingham Metro YMCA Association. He and his wife, Barbara, have two children and attend St. Francis Xavier Church.