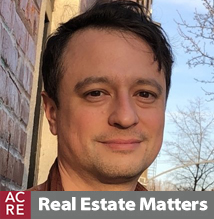 Most young people aspire to buy their first home. Wall Street Journal reporter Ryan Dezember spent a decade trying to get rid of his. In UNDERWATER: How Our American Dream of Homeownership Became a Nightmare, Dezember provides a powerful, incisive story that chronicles the 2008 housing crash and its aftermath from a fresh perspective—the forgotten, middle-class homeowner.
Dezember joins ACRE Data Analytics Coordinator Stuart Norton on the podcast to discuss how decisions on Wall Street and in Washington played out on his street in a corner of the Sunbelt that was convulsed by the foreclosure crisis.
--
RYAN DEZEMBER is a reporter for The Wall Street Journal, writing about financial markets and investors. He previously wrote about the oil industry from the Journal's Houston bureau. Before that he worked as a reporter for the Mobile Register, reporting on the real-estate boom and bust for coastal Alabama's daily newspaper. He lives in Brooklyn, New York.